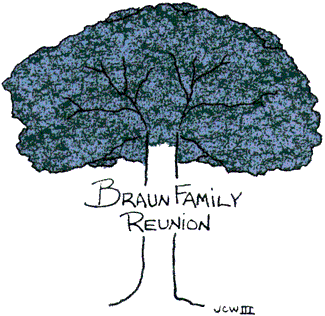 Braun Family
Andreas Braun/Brun
Sebastian Clad
& Anna Maria Rieblin


Jean Jacob Braun (~1620-~1661)
& Anna Clad (~1625-1686)
Michael Schaffhauser
& Marie Ritter


Balthazar Braun (~1654-1714)
& Barbara Schaffhauser (~1663-1717)
David Andres
& Ursula Weyland


Joannes Balthasar Braun (1691-1742)
& Regina Andres (1699-1777)
Johannes II Kastler
& Barbara Andres


Heinrich "Henry" Braun (1739-1826)
& Anna Barbara Kastler (1737-1836)
Joannis Petri Koenig
& Anna Mariae Bollecker
Johannes Voigt (1596-____) 17

Andreas Voigt (____-1702) 17

Tobias Voigt (1684-____) 17

Andreas Voigt (1725-1791) 18
& Maria Elisabeth Jaeger (1732-1808)

Ignaz Voigt (1771-1841)
& Gertrude Rheinlander (____-1845)



Johann Peter Braun (1772-1827)
& Gertrude Koenig (1774-1836)
Henry Kiffmeyer
& Elizabeth Wittkamp
Bartholomaeus Voigt (1794-1864)
& Anna Marie Waldman (1806-1896)



Xavier Braun (1813-1904)
& Magdaline Lindel (1819-1912)
Theobald Rabischung (1813-1892)
& Rosilia Tschirhart (1820-1907)
Gertrude Kiffmeyer (1829-1933)
& Henry Landwehr (1808-1881)
Wilhelm Voigt (1834-1880)
& Theresa Meier (1842-1912)




John Braun (1861-1934)
& Susanna Rabischung (1862-1896)
Margaret "Gretchen" Voigt (1863-1929)
& John Landwehr (1863-1893)


Alphonse Braun (1886-1975)
& Theresa Landwehr (1889-1968)

Donald, Marjorie, baby girl, Robert, James, Louise, Mary, Frances, Helen

Apology: The webmaster apologies that the family tree has scope inconsistencies. A multi-year endevour is underway to migrate data from this page's pop-ups to TribalPages.com. This transition is occuring one person at a time.
17 Data provided via email communication with Jeff Voigt, a great-grandson of Wendelin Voigt.
18 FamilySearch.org
---
Last modified 11 June 2023. Created and maintained by
DM
.